Introduction to the UroLift® System
The UroLift® System uses a different approach to treating BPH that lifts and holds the enlarged prostate tissue out of the way so it no longer blocks the urethra.
It is the only transurethral BPH treatment that does not require ongoing medication, heating, cutting or removal of the prostate tissue.
Treatment with the UroLift® System typically takes less than one hour and does not preclude future UroLift® System treatments, TURP, or laser procedures.
Download Physician Brochure
Proven Clinical Results of the UroLift® System
Faster Recovery. Minimal Risks. Proven Outcomes.
Clinical results from over 22 select sponsored publications and over 140 peer-reviewed publications demonstrate that treatment with the UroLift® System offers rapid and significant improvements in symptoms, urinary flow and quality of life sustained through five years.1
The UroLift® System has demonstrated a symptom relief better than reported for medications.2,3 The UroLift® System treatment preserves sexual function*2,3,4 and avoids complications typically associated with other BPH procedures.1,2
Rapid symptom relief and recovery3,4

Lowest catheter rate among leading BPH procedures1,3,5-8

No new onset, sustained erectile or ejaculatory dysfunction4

Proven durability through five years1
The Prostatic Urethral Lift (PUL) procedure (using the UroLift® System) is recommended for the treatment of BPH in both the American Urological Association and European Association of Urology clinical guidelines.
What Comprises the UroLift® System?
The UroLift® System is comprised of two main components.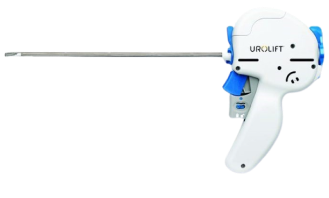 UroLift® Delivery Device
It is inserted transurethrally through a rigid sheath under cystoscopic visualisation to reach the targeted area of obstruction. Each delivery device contains one UroLift® Implant.

UroLift® Implant
The obstructing prostatic lobes are held apart by small permanent UroLift® Implants that are deployed by the delivery device. Each implant is made with common implantable materials: nitinol, stainless steel, and PET suture.
* Typically, four implants are placed into the prostate.
Download Product Info
MRI Information
Non-clinical testing has demonstrated that the UroLift® Implant is MR Conditional.
View Instructions for Use
A patient with this device can be safely scanned in an MR system immediately after placement meeting the following conditions:
Static magnetic field of 3.0 Tesla or less
Maximum spatial field gradient of 1,500 Gauss/cm (15 T/m) (extrapolated)
Maximum MR system reported, whole-body averaged specific absorption rate (SAR) of 4W/kg for 15 minutes of scanning (i.e. per pulse sequence) (First Level Controlled Operating Mode)
Under the scan conditions defined above, the UroLift® Implant is expected to produce a maximum temperature rise of 2.4°C after 15 minutes of continuous scanning (i.e. per pulse sequence).
In non-clinical testing, the image artifact caused by the UroLift Implant extends approximately 15 mm from the UroLift Implant when imaged with a gradient echo pulse sequence and a 3.0 Tesla MRI system.
The safety of the delivery system has not been evaluated in the MR environment, and therefore, the delivery system should not be used within the MR environment.
Patient implant cards are provided to inform the patient that the UroLift® Implant is MR Conditional and can safely be scanned only under specific MR conditions.
Read More


Sign Up for Updates on the UroLift® System
*No instances of new onset, sustained erectile or ejaculatory dysfunction in the LIFT pivotal study
References
1.
Roehrborn et al. Can J Urol 2017
3.
Roehrborn, J Urology 2013
5.
Shore, Can J Urol 2014
6.
Bachmann, Eur Urol 2014 May
7.
Mollengarden, Prostate Cancer Prostatic Dis 2018
Healthcare Professional Confirmation
The information on the page you are about to enter is intended for Healthcare Professionals only.
By clicking the box below, you confirm that you are a Healthcare Professional.
Continue